Download this Free Book below
Psoriasis is a noncontagious, skin disease that has been diagnosed in 4.5 million adults in the United States.
About 10 percent to 30 percent of people with psoriasis also develop psoriatic arthritis, which causes pain, stiffness, and swelling in and around the joints.
No one knows exactly what causes psoriasis, but it is believed to be an autoimmune disorder that also has a genetic component.
The majority of researchers agree that the immune system is somehow triggered, which speeds up the growth and life cycle of skin cells.
Normally, a skin cell matures and falls off the body's surface in 28 to 30 days. However, a psoriatic skin cell takes only three to four days to mature and move to the surface. Instead of falling off (shedding), the cells pile up and form the lesions.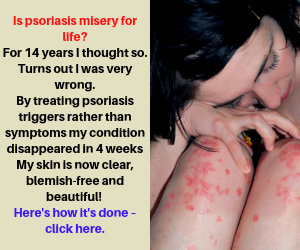 Psoriasis occurs when faulty signals in the immune system cause skin cells to grow too quickly. Usually every three to four days instead of the usual 30-day cycle.
Extra skin cells build up on the skin's surface. They then form "plaques," which are red, flaky and scaly patches that are often itchy and uncomfortable.
Psoriasis generally appears on the joints, limbs, and scalp, but it can appear anywhere on the body.
Recently, a team from the University of Michigan looked for the gene — called PSORS1 — in more than 2,700 people from 678 families in which at least one family member had psoriasis. According to the researchers, PSORS1 is the first genetic determinant of psoriasis to be definitively identified in a large clinical trial.
The finding may help in the development of new, more effective treatments for the disfiguring inflammatory skin disease.
For those people who have a suppressed immune system, the symptoms of psoriasis can be extremely severe.